Freedomland's Riverboats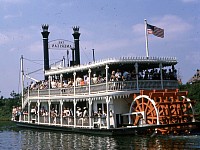 Freedomland had two identical Sternwheelers The American and Canadian, the last built east of the Mississippi. They were built by the Todd Shipyards in New Jersey, 1959-1960' for Freedomland. They carried 300 passengers each, and operated each of the 5 seasons at the park. Great effort was made to create the nautical experience as the boats operated in the park's 9 acre Great Lakes, with captain and crew attired appropriately. The trip was a calm, and fun ride for all, with sometimes, bands on the boats.
Strangely of late, it has been stated by a few individuals that these boats did not have engines, and described them as barges. This is one of the silliest and most foolish comments ever said about the boats.
They certainly did have engines rather large ones, and they also had another one to help with the large stern wheel. Hopefully, the thought that these boats did not have engines, will not prevail as the idiocy of this thought is just laughable. Having ridden the boat at Freedomland, a number of times, I would look in the window in the enclosed area near the sternwheel and saw the motor operating.
In the new DVD, Freedomland America's Theme Park Volume 2, more on the Boats will be featured including a tour of the American, which had been refurbished into a party gathering spot in Portchester, New York for a number of years. Unfortunately the owner was forced to sell the boat because of New York's unfriendly business attitude, and it was severely damaged as it was being prepared for transport to South Korea.
Bob Mangels